My new book is HERE!
I'm tickled pink to announce my new book, Mosaic Knitting Workshop, is available for order!
This labor of love was inspired by the many knitters who have encouraged me along the way, this book gives all knitters - from the experienced and those just starting out - the confidence to learn this beautiful method of artistic knitting.
Chock full of delicious mosaic motifs, the projects in this book will adorn your home with colorful and modern accessories!
You can find the book on Book Depository, Barnes and Noble, Bookmarked Hub, Bookshop.org, IndiePubs, and Amazon.
Order Here
The latest from the blog...
---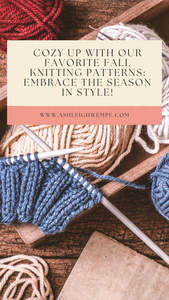 Fall is here, and it's the perfect time to indulge in some knitting projects that celebrate the cozy and colorful spirit of the season. In this blog post, we've curated...
Today, we're unraveling the mystery behind a fundamental aspect of knitting pattern design – the art of consistent abbreviations. Just like following a recipe, using uniform knitting abbreviations ensures a...
Unlock the power of pattern testing and learn how to gather valuable feedback to refine your designs. Discover the importance of pattern testers, effective communication, and iteration in creating patterns...
Let's create something beautiful!
Join me in experimenting with unique color combinations, construction techniques, and stitch patterns!
You'll find a new pattern almost every month, and you can keep up to date with what I'm working on by following my Instagram (I LOVE posting in stories and I live in my DMs!).
Be sure to tag me @ashleighwempe so I can see all the cool stuff you're working on!
Meet the Maker
Hi! I'm Ashleigh, an Air Force veteran with a day job as a Process Engineer, mom, wife, and finder of all things that are hiding in plain sight.
What ever brought you to my little corner of the internet, thank you. This little shop was born in 2020 as a way for me to light the creative fire inside me that had dimmed over the years.
Every thing you see here is an experiment, every customer a friend and every cup of coffee needs reheated at least 7 times.
I hope you can feel at home here. I hope you find something that sparks that creative fire in you. I hope you leave inspired.
About Me
Are you looking to take your design business from an "expensive hobby" to a "fulfilling business"?
Let's chat!
Picture me singing "I can be your hero baby!" (okay, maybe don't -- I'm a terrible singer!)
But, I do love to work with new and established designers who are looking to escape the overwhelmed feeling of running a business solo with too many tasks on their plates.
I'll help you create efficient systems, processes, get your financial goals in order, and create a bold and actionable roadmap for success.
I don't sugarcoat things or tell you what you want to hear - I'm here to help you create the business of your dreams.
Curious?